What Are the Uses of Karambit Knives?
Added: 14.2.2018 11:56.21 Views count: 6280
14 February 2018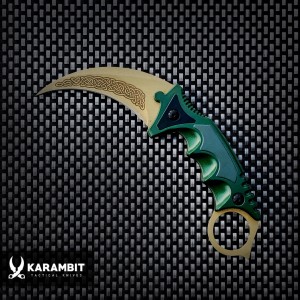 If you're like a lot of younger Americans, you've probably seen karambit knives in the video game Counter-Strike and numerous action films. While they may look exotic, they're actually quite useful in everyday life. Here are just a few of the things that you can do with this handy precision tool.
#1 Defend Yourself From Assault
When it comes to close-quarters combat, few knives can equal the karambit insofar as inflicting devastating wounds is concerned. In the hands of a skilled user, the karambit is a deadly weapon that tips the scales in the favor of the defender. A seasoned self-defense expert can teach a new karambit owner how to make the most of this versatile knife in a matter of minutes.
#2 Cut Rope Down to Size
When you need to cut twine, synthetic rope or soft cable in a hurry, there's no better impromptu tool than a karambit knife. The curved blade allows users to score outer coatings on all kinds of rope to access inner strands without damaging them. This makes splicing ropes together for a variety of purposes a cake walk.
#3 Gutting and Cleaning Fish
Avid fishermen never know when they'll be driving past open water and feel the urge to try their luck. A karambit knife is a versatile tool when it comes to cleaning fish. One can quickly strip off scales and remove guts away from home with a quality karambit.
#4 Field-Dress Wild Game
Whether you're partial to whitetail deer, moose, black bear, pheasant or grouse, quickly dressing game in the field is a priority for hunters. In many ways, a karambit is the ultimate utility knife for cleaning fresh kills. It's great at slashing ligaments, removing internal organs and scraping hides regardless of the animal you're using it to dress.
#5 Cut Turf for Landscaping
Managing the grounds of any residential or commercial property typically entails plenty of sod work. Karambits make chopping up turf a breeze when you're installing a new lawn. They can also be used to slice and dice established turf when crafting vegetable gardens, flower beds and French drains.
#6 Clear Roots From Rough Terrain
Turning an overgrown field or patch of woods into a well-manicured lawn requires a lot of hands-on vegetation disposal. Once you've used a brush mower to get rid of the above-ground growth, you'll still need to pull plenty of roots. Karambit knives make chopping up stubborn below-ground growth a relatively easy task.
#7 Trim Vines and Harvest Crops
Originally developed hundreds of years ago as an agricultural tool, the karambit is the perfect blade for chopping down plants in the field. You can use your karambit as a miniature scythe to thresh grain, cut down hop bines or chop off the stems of pumpkins and watermelons.
#8 Strip Bark from Tree Limbs
People that spend a lot of time hiking and camping know that manipulating the available wood found nearby for a variety of purposes is a key skill. Thanks to their razor-sharp edges, karambits make it easy to create the perfect kindling for fires and fashion skewers for roasting food.
#9 Prune Fruit and Nut Trees
Due to their robust construction, karambits are particularly adept at tree trimming. When garden shears aren't available, karambit knives can get the job done just as well. If you have apple trees or raspberry bushes on your property, a karambit will save you a lot of time and effort during the growing season.
#10 Open Bottles and Cans
Nothing's more annoying than reaching for a cold beverage and realizing that you don't have a bottle opener. Karambits feature curved tangs that can be used to pop off bottle caps quickly and safely. The fine point of a karambit's blade will make short work of any can lid that you encounter.
#11 Scribe Cuts for Rough Woodwork
When you're cross-cutting 2x4 studs and ripping plywood to construct outbuildings, laser precision isn't really a priority. Regardless, it's hard to produce quality results if you don't have reasonably accurate guidelines to work with. Karambits can effortlessly mark up even the toughest wood stock for worry-free cuts.
#12 Cut PVC and Copper Pipe
For quite a few homeowners, plumbing repairs are spur-of-the-moment affairs that are performed out of necessity after a surprise rupture. If you don't have a hacksaw handy, a karambit knife will perforate PVC and CPVC pipe with the application of a little elbow grease. A karambit's curved shape makes it a natural copper pipe cutter as well.
#13 Loosen Stubborn Rusty Fasteners
Besides death and taxes, one of the few guarantees in life is that you'll almost never have a screwdriver nearby when you need it. A karambit's fine edge and sharp point allow it to function as both a flat-head and Phillips screwdriver simultaneously. Karambits can also be used to pry out stubborn nails and staples.
Finding a Quality Karambit That Goes the Distance
In recent years, the karambit has experienced a surge in popularity as the general public discovers its many advantages. Karambit Tactical has a diverse array of karambits that will appeal to nearly every prospective buyer on the market. If you want a great karambit that will stand the test of time, there's a good chance that Karambit Tactical has the perfect model for your needs.